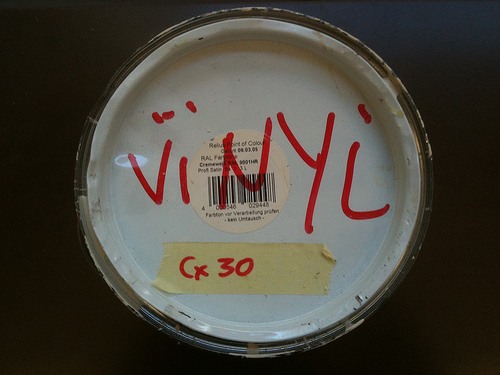 We at Just Music Makers love everything that is vinyl related.
Paolo Campana, a friend and movie-maker, is finalising his new "opus magnum", a work dedicated to vinyl records, aptly titled Vinylmania. You can support the realization of the film pledging any amount of money and getting back serious goods like special edition DVDs, private screenings, limited edition 7″ and far more!
Watch the trailer: The Movie | Vinylmania
Check the Kickstarter campaign here: Kickstarter | Vinylmania.
::::::::::::::::::::::::::::::
"A trip into the grooves, Vinylmania is a 75 minute feature length documentary about an object that has never lost its soul: the vinyl record.

An epic love story, the film is filled with fascinating characters and internationally recognized artists including Philippe Cohen Solal (Gotan Project), Winston Smith (Dead Kennedys, Green Day record sleeve artist), Peter Saville (Joy Division, New Order record sleeve artist) and DJ Kentaro (2002 DMC World DJ Champion).
Devotion, ecstasy, infatuation, agony – all feelings that the director of the film, Paolo Campana, has experienced from childhood and shares with like-minded record collectors, Djs, musicians and artists (the said vinylmaniacs) in the documentary. Set in 11 different cities worldwide, the director sets out on a global road trip to find out what role vinyl records play in the 21st century!
Campana in an effort to make the double DVD 'Vinylmania' commercially available has begun a Kickstarter campaign – essentially supporters of the film pledge their financial support, anything from $1 upwards – once the $33,000 is raised the film will be finished and those who pledged will receive an appropriate award. The pledges are to used to cover the costs of; Clearance rights of the music for DVD worldwide release, a voice over artist and studio to mix an English language narration track (currently in Italian by the director himself), creation and editing of the bonus materials, creation of a DVD graphic, case and booklet, a 5.1 surround sound version, and licensing costs.
Remember, if we don't reach our funding goal of $33,000 by 10th November no money changes hands. It's "all or nothing" so please support us!

:::::::::::::::::::::::
We did it, and you?