Just Music Makers #03 – The Machines, the Eclipse and the Dancers (in the shadow of the Cube)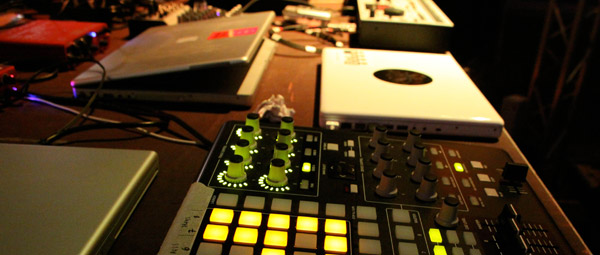 Here we are again, finally!
JUST MUSIC MAKERS session #3 finally took its shape…
"Eclipse at the Cube"
Home to big events like the 'Club To Club' and 'Movement' Festivals, Torino has still got room to host smaller events and push alternative ways to showcase electronic music.
At JMM, our night dedicated to the underground and stimulating side of electronic music, we always try hard, guesting electro live acts in museums or jamming machine-driven techno in rock clubs.
This time JMM discovers the intersections between live electronic music and classical/contemporary dance, hosting a clash of arts in a new, dark venue, aptly named 'The Cube'.
After having hosted cult and underground acts like Annie Hall, Plant43, Jo Johnson and Vaghe Stelle, the new session is dedicated to the deep side of Techno, with the Turin-based label Eclipsemusic showcasing its artists and new releases.
On the music side we have the new signing to Eclipsemusic, the Barcelona based Edanticonf, plus the label's deep/tech act Rob.Bardini, Decoside, passEnger+xluve (invited to play at december's Bleep43 along Surgeon, Dj Pete and Donato Dozzy) and the label's boss Francesco Stella.
On the dance side, the Paris company Karma Dance Project will perform specific choreographies to some soon-to-be published tracks from the label.
This experimental project will bring together music and dance so that each art form enhances and complements the other, making for a unique experience that will both resonate and captivate the audience..
See you in the Cube!
Eclipsemusic, Edanticonf, Francesco Stella, Karma Dance Project, Music Makers, passEnger, Roberto Bardini, xluve