On JMM stage… Annie Hall!
Wednesday, November 25th Annie Hall performed on our Just Music Makers stage, for its Italian debut. 
We've asked her to reply to a few questions.. enjoy.
:::::::
Your sound has clear references to the original Detroit electro sound, with its strong devotion to analogue equipment and its imaginary of technology, machines, space and future. Can you tell us how your interest in this kind of music was born? And which are the artists / records that influenced you most?
My work as a dj begins with the most purist electro, Miami Sound, robotic sounds, etc.. When I discovered the sound of Detroit it was like coming back home, because I found in it all the elements that I love in electronic music, a soul and a great flow. Everything very musical and melodic, with space and futuristic influences. All things that I love, being a lover of astronomy, physics and science since my early age. Then I started to buy Detroit techno and electro records, and they become an essential part of my sound and my luggage. These same things inspire me when I produce my music.
For what concerns my influences, it is very difficult for me to drop a few names only, because my influences are very varied and not only about Detroit. Certainly the labels that never leave my bag are Underground Resistance, Warp, Skam, Clone, Frustated Funk, Detroit Underground … As for the artists, certainly they are more diverse,since I'm not only influenced by electronic artists; to name a few, developing different styles, I would say James Stinson, Gerald Donald, Autechre, Convextion, Aphex Twin, J Dilla, Carl Finlow, Funckarma, Roy Ayers…
Going deeper into technology can you tell us some words about how you make music in your studio? How do you start a song? Which machines or software do you like to use and why?
In the moment I start composing everything depends from my state of mind: in the beginning I never know which path the composition will take.
The point is to find the sound that brings a feeling with it, and from there, in one way or another, begin to work.
At first I used only real machines (synths, drum machines, etc..), all hardware, that's how I learned. Later I began to incorporate software and work with both at once, because I also like some digital sounds. For example, I really like using Reaktor, a software that allows you to create your own synth sounds and to build more elaborate, more digital sounds, with great strength and great opportunities for experimentation.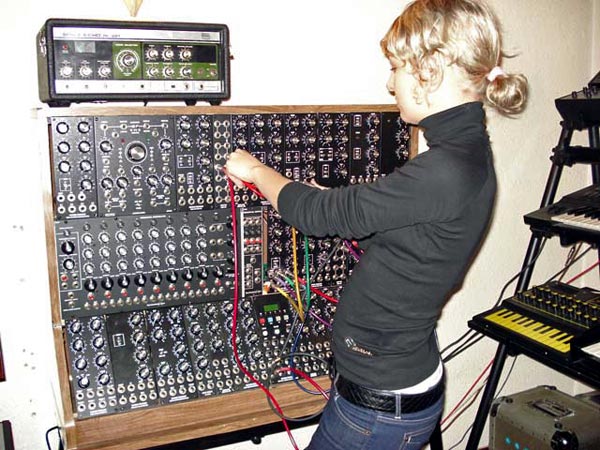 What about your real-life, what are you doing daily? During the day, which role does the music play for you?
Music plays a major role in my life, in every sense, even in everyday life … I listen to music at all times while working, when I drive, or simply when I lay down on the couch. I listen to all styles of music, not always electronic. My iTunes has so many different styles!
As a matter of fact at home I'm listening to everything and I can get ideas from anything, I think this is something that adds a lot to me as a producer, and helps me to overcome many limitations during the time of creation.
:::::::
Annie has also given us a recording of a dj sets to download, enjoy!
Download the dj set here.