Just Music Makers #03 – Il cubo all'ombra dell'eclissi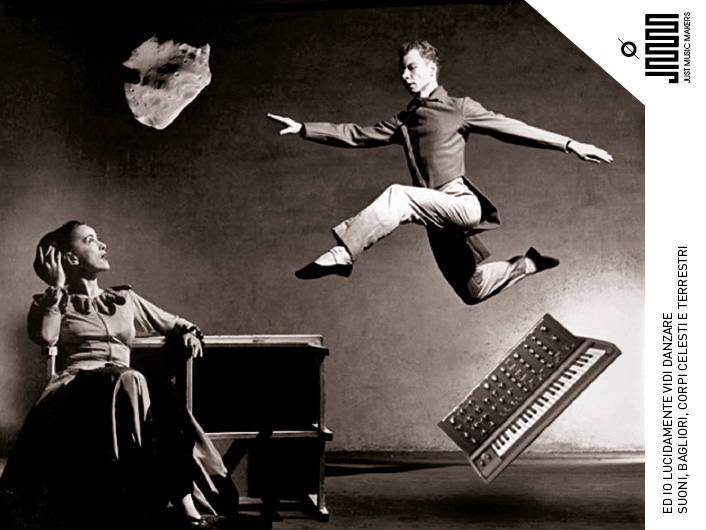 Rieccoci, finalmente!
La terza session di JUST MUSIC MAKERS ha finalmente trovato la sua forma…
"Eclipse at the Cube"
::::::::::::::::::::::::::::::::::
Sede di grandi eventi come 'Club To Club' e 'Movement', Torino ha ancora spazio per ospitare piccoli happening e promuovere modi alternativi per approcciarsi alla musica elettronica.
A Just Music Makers, la nostra serata dedicata al lato più underground e stimolante della musica elettronica, cerchiamo sempre di creare situazioni particolari, invitando electro acts in musei o ospitando live techno in locali prettamente rock.
Questa volta JMM scopre le intersezioni fra musica elettronica live e danza classica/contemporanea, ospitando questo incontro di arti in un luogo speciale, 'The Cube' appunto.
Dopo aver ospitato acts come Annie Hall, Plant43, Jo Johnson e Vaghe Stelle, la nuova session è dedicata al versante più deep e intimo della Techno, dedicando l'intera serata all'etichetta torinese Eclipsemusic.
Sul lato musicale avremo il nuovo acquisto della label, Edanticonf da Barcellona, Roberto Bardini e Decoside ormai indiscussi talenti di livello europeo, passEnger+xluve (invitati di recente al Bleep43 i Londra, insieme a Surgeon, Dj Pete e Donato Dozzy) a fare i consueti onori di casa JMM, nonchè il creatore dell'etichetta Francesco Stella.
Sul lato della danza, la compagnia Karma Dance Project si esibirà con due interventi presentando coreografie specifiche create per alcuni brani di prossima pubblicazione dall'etichetta.
Insomma, sarà un progetto sperimentale che cercherà di unire musica e danza in modo che ogni forma d'arte esalti e completi l'altra, per un'esperienza unica e speriamo affascinante e ispiratrice.
Ci vediamo nel Cubo!
::::::::::::::
JUST MUSIC MAKERS Session #3
18 Dicembre dalle 21.00 @ The Cube
(presso Officine Corsare, Via Giorgio Pallavicino, 35
QUI–> http://tinyurl.com/378y9yw)
Info: hello @ justmusicmakers.com (rimuovi gli spazi prima e dopo "@")
Facebook Event: Just Music Makers
Programma:
21.00 > Francesco Stella Dj Set
22.00 > Karma Dance Project performs SYZYGY part 1
22.30 > Edanticonf Live
23.15  > passEnger+xluve Live
00.00 > Karma Dance Project performs SYZYGY part 2
00.30 > Decoside Dj set
01.30  > Roberto Bardini Dj set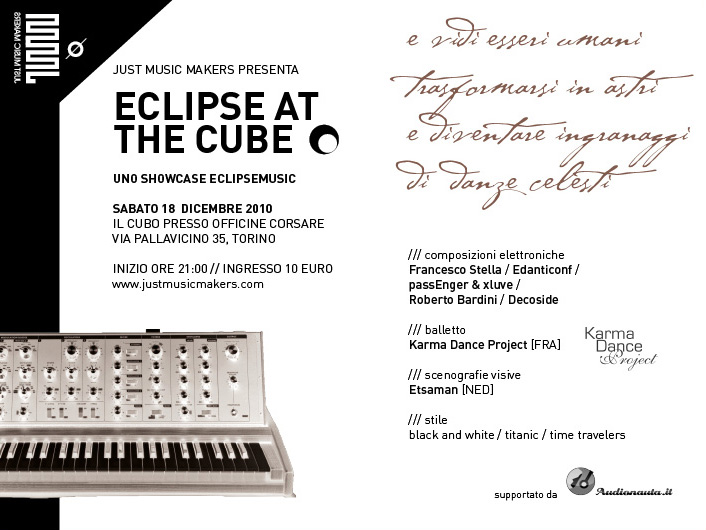 Eclipsemusic, Edanticonf, Francesco Stella, Karma Dance Project, Music Makers, passEnger, Roberto Bardini, xluve