Dialogo tra musica classica ed elettronica / passEnger+xluve @ RAI Nuova Musica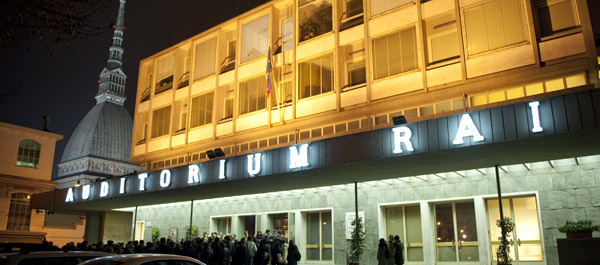 RAI Nuova Musica / The Future Sound Of Classical è un interessante esperimento che giustappone, nella stessa location, musica classica contemporanea e nuova elettronica. Ideata dall'Orchestra Sinfonica Nazionale e da Associazione Culturale Situazione Xplosiva, è alla sua sua seconda edizione, e si tiene nella suggestiva cornice dell' Auditorium RAI di Torino.
Il programma delle serate include l'esecuzione da parte dell'Orchestra Sinfonica RAI di una serie di brani di musica classica contemporanea (includendo sia autori emergenti sia grandi classici) e la performance di act elettronici sia in dj set che in live set. La vera compenetrazione tra i due mondi avviene però nella seconda parte dell'esibizione del progetto elettronico, quando esso è chiamato a eseguire un remix di uno dei brani eseguiti dall'orchestra la stessa sera.
Io e Marco (passEnger + xluve) siamo stati invitati ad esibirci a RAI Nuova Musica il 4 Febbraio 2011, presentando un live set inusuale, con materiale pressochè inedito, tra ritmi astratti, sequenze ambient e improvvisazioni su Synth e Drum Machine.
passEnger + xluve Live @ RAI Nuova Musica | Auditorium RAI, Torino, Italy (Feb. 4th, 2011)
Per l'operazione di remix ci è stato quindi assegnato il brano 'The Hague Hacking' per due pianoforti e grande ensemble, scritto da Louis Andriessen, considerato il maggior compositore Olandese contemporaneo.
Eseguito dall'Orchestra Nazionale della RAI insieme alle gemelle Katia and Marielle Labècque ai pianoforti e diretto da Frank Ollu, The Hague Hacking è un complesso ed affasciante brano che abbiam rivisitato usando le registrazioni delle prove della mattina stessa.
A voi il risultato!
passEnger + xluve – Live Rework of 'The Hague Hacking' by Louis Andriessen